Coffee Morning 2018
A huge thank you to everyone who attended our Macmillan Coffee Morning on the 28th September, 2018. We raised an incredible £500.00 making our total raised so far a staggering £65,199.07 and we'd like to say a big thank you to everyone who has helped us reach this phenomenal sum so far! Jangro members, suppliers and customers are truly awesome!
Over the last year, our members have been busy participating in various fundraising events, such as sponsored Christmas walks, 100k cycle rides, mini-auctions, raffles and other events to raise money for MacMillan Cancer Support. The 'Big Give Christmas Challenge' raised an astonishing £5,516.89. We also repeated our 'Supplier Round Robin' event earlier this summer. Thanks to the generosity of the Jangro membership and our suppliers, we raised a total of £2,179 over this three day event.
We are currently planning our remaining challenges and events for 2018, please keep checking back to see how we get on or follow us via Social Media.
We've hit the BIG 60!!
A BIG thank you to everyone who has helped us reach this milestone so far. We are pleased to have smashed the £60k mark with the total standing at £61,685.
Our Jangro members were busy elves during the festive period and took part in the Big Give Christmas Challenge which raised an astonishing £5516.89. Our fundraising team have taken part in Christmas walks, 100k Cycle rides, raffles and staff events to raise as much as possible.
If you would like to read more stories on what our members are getting up to, or would like to pledge a donation, please visit our dedicated page at https://www.justgiving.com/fundraising/jangro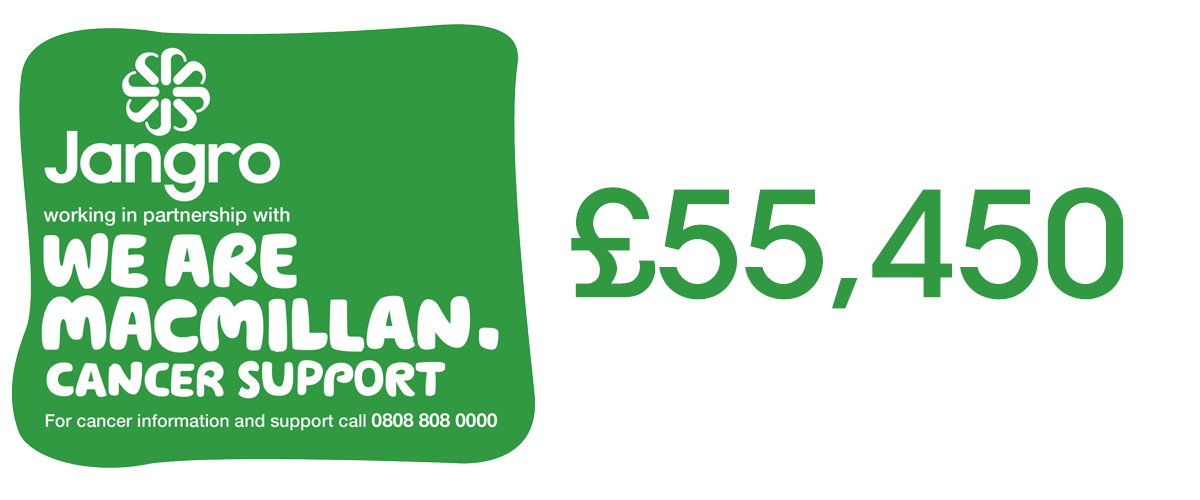 Let them eat cake (whilst helping a great cause!)
Here at Jangro last month, we continued our effort to raise £100,000 for MacMillan Cancer Support by taking part in the annual 'MacMillan's World's Biggest Coffee Morning'. It was a great event, with a number of staff baking up delicious treats that would rival those of the Great British Bake Off! We are proud to announce that we raised a total of £350 at the coffee morning.
A big thank you to all Jangro members, staff and our group suppliers for their fantastic efforts, not only at the coffee morning, but for helping, sponsoring and encouraging us in our other recent charitable endeavours which have included sponsored walks, triathlons, marathons, race nights, raffles and auctions.
Please click here to check on our progress and should you wish to donate.
Jangro Ltd Working in Partnership with Macmillan Cancer Support
Jangro Ltd has chosen to support Macmillan for the next 3 years. Our aim is to raise over £100,000 through various fundraising events including sponsored walks, triathlons, marathons, raffles and auctions. So far we have raised over £48,000!!!
Through the fantastic support from all the Jangro members, staff and our group suppliers we are working hard to reach this target to support this most worthy charity.
Please keep checking our progress. Should you wish to donate please click the Macmillan Logo to take you to our just giving page.